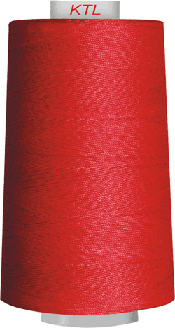 About Us
KTL is a leading brand which is among the largest manufacturers of Sewing Threads and Zip Fasteners in India, with extensive production facilities in the states of Uttarakhand and Haryana respectively. KTL is an Oeko-Tex, econfidence, Reach compliant and an ISO 9001 certified company, where product quality is of prime importance. 'Stringent' is the pre-dominant mindset in the organization at every stage with regards to issues concerning quality management. All KTL products are qualitatively superlative and are made using the finest yarn finished to international specifications using eco-friendly dyes, chemicals, high-end finishes and coatings.
The customer care policy of KTL provides every consumer the advantage of excellent products, wide range and economy. In addition, there is the strategic advantage in terms of reduced lead time and very small dye lots. The sewing thread manufacturing plant in Uttarakhand is equipped with adequate infrastructure, cutting edge technology, ultra-modern equipment and technically efficient workforce to cater to the growing demands of the textile industry and maintain KTL's enhanced brand equity.
The KTL spectrum of products are applicable to diverse end uses such as stitching of garments (woven and knits), denims, lingerie, leather (and accessories), footwear, fixing beads, embroidery with decorative effects, technical textiles and industrial uses. KTL has put in process an online Total Stock Management system which ensures at least 95% availability at all times with a distribution network spread across India.